Footballer, Victor Osimhen Reacts to Critics Who Called Him Out Over His Tweets
Footballer, Victor Osimhen Reacts to Critics Who Called Him Out Over His Tweets
Victor Osimhen, a Nigerian professional footballer, recently exchanged words with some Twitter followers who chastised him for his posts.

It all started when Victor came to Twitter to share a tweet that sparked outrage among some Twitter users. His critics say he needs to hire an "adult" to manage his page since his tweets are too juvenile.
He had tweeted, "I know say we agreed on friends with benefits, which one kon be say you don dey fall in love with me."
In response, a lady said, "Bruh maybe let an adult handle your social media because wtf?".
The Napoli player retaliated against the woman, but after being attacked by other Twitter users, he eventually conceded and stated that he was "catching cruise."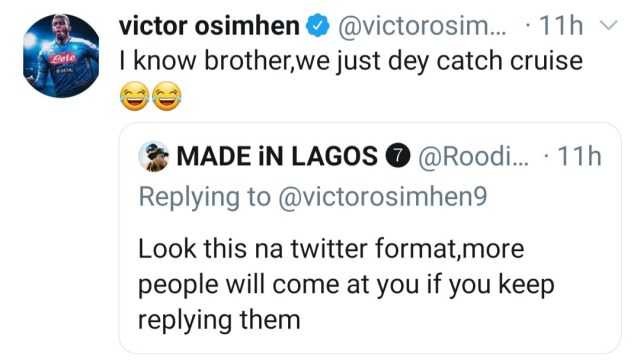 This isn't the first time the footballer has been chastised for his social media posts. A fan once encouraged him to refrain from sharing memes and viral content on his social media platforms.
"Victor, you don't need all this stuff on social media. Many of my Italian friends and Italian media aren't happy about your posts.
I'd advise you to get someone to handle your account like other professional footballers. Rashford and Mbappe are always cautious of their tweets," he wrote.
However, Victor responded saying, "Advice well received bro thanks, but the problem is, I no dey hear word and I get coconut head… Tomorrow more memes to come".